Xstamper Stamp Warranty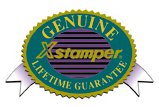 Shachihata Inc. guarantees Custom-made Xstamper stamps against defects in workmanship and materials under normal usage, with proper care and re-inking, for as long as you own your stamp. Date Stamps are guaranteed through the life of the date bands.
Shachihata Inc. shall not be liable for any defects or damage caused by the use of refill inks other than the Xstamper Refill ink. In the event defects should occur, we will repair or replace the defective stamp with a stamp of identical size and impression without charge within 10 days of the receipt of the defective stamp.
A. Normal Usage
Normal usage constitutes daily business uses for which the stamp was designed. This includes stamping on paper, cardboard or other like materials. Normal usage does not include commercial or industrial stamping or any use where the original hand stamp has been modified or used in conjunction with any type of stamping machine.
Unlike conventional stamps, a hard strike is not necessary with Xstamper. A light press to the stamping surface will ensure the highest quality impression. Allow a few seconds between stamping for maximum ink flow.
B. Proper Care
Custom-made Xstamper stamps should be stored in a dust-free environment. The tacky side of any plastic tape can be used to remove dust or paper fibers which may accumulate on the stamp surface. Plain rubbing alcohol on a dust-free cloth can be used on the stamp surface to clean any dirt which may build up. Never rub the stamp surface hard or allow sharp objects to come in contact with the rubber.
C. Re-inking
Re-inking must be performed at such time when the stamp impression has become consistently light. For complete re-inking instructions, please click here. Use of Xstamper ink is strongly recommended as most other brands cause clogging of the microscopic pores.
D. Repair/ Replacement
To obtain repairs or replacements within the terms of this guarantee, please call Shachihata Inc. at (800) 541-9719 to obtain information on guarantee performance. Shachihata Inc. shall, within 10 days of receipt of the stamp, at its discretion, repair any stamp that becomes inoperable due to defect, or if the stamp cannot be repaired, replace it with one of identical size and impression without charge. The performance of duties under this guarantee shall not be required of Shachihata Inc.; if Shachihata Inc. can show that the defect, malfunction or failure of any stamp to conform with this guarantee was caused by damage not resulting from defect or malfunction while in your possession or unreasonable use including failure to provide reasonable and necessary maintenance.
E. Daters
By mechanical limitation, the dating mechanism of each Xstamper dater cannot be chronologically advanced beyond a date (the "expiration date") which is preset at the time of manufacture. The preset expiration date is ordinarily no less than 10-12 years and is printed on the product package.
F. LIMITATION OF LIABILITY
UNDER NO CIRCUMSTANCES, SHALL SHACHIHATA BE LIABLE FOR LOSS OR DAMAGE DIRECT OR CONSEQUENTIAL, ARISING OUT OF THE USE OR INABILITY TO USE THE STAMP. SHACHIHATA INC.'S TOTAL LIABILITY WILL BE FOR REPLACEMENT ONLY.
Some states do allow the exclusion or limitation of incidental or consequential damages, so the above or exclusion may not apply to you.
G. Other Legal Rights
This guarantee gives you specific legal rights, and you may also have other rights which vary from State to State.